The following table shows the official and Islamic holidays in the UAE during the new year 2019.
The Hijri calendar is the official reference for Islamic occasions such as the beginning of Ramadan or Hajj.
Depending on the cycles of the moon, the precise dates of Islamic events vary from year to year, depending on the local vision of the crescent.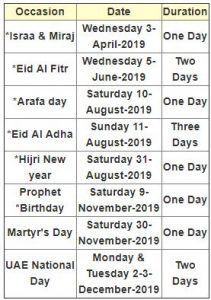 *Islamic events vary depending on the local vision of crescent, and may differ from the dates mentioned above